For time of services, youth and child programs, etc. see the Gatherings page or click here.
Weekend Services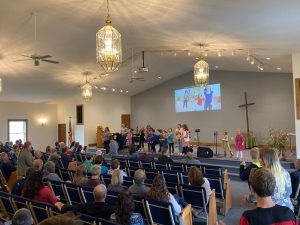 During our Sunday Morning Service times, we attempt to cultivate a space where everyone is free to experience God. You are invited to participate at whatever level seems right for you. Some of the elements of a regular Sunday service include the following:
Singing
Music is a powerful means of expression. We welcome you to join in with our musicians as they lead us in worship. Lyrics will be provided for you on a screen.
Worship Arts
At times, we will incorporate other art forms such as visual arts, video, drama, etc. to help communicate the concepts/themes of each weekend service.
Prayer
Prayer is simply communicating with God. We may encourage you to pray silently or as someone leads us in corporate prayer.
We take time in our church services to hear what God is doing in the lives of the people in the congregation. We also learn how to pray for people in need.
Message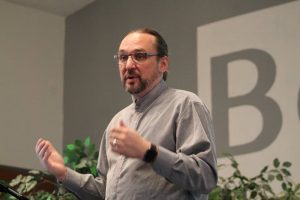 Every week we learn and interact with a story of God, as told through the Bible. We hope to provide you with thoughts and truths to help you take one step closer to God. Our messages are practical and down-to-earth. We recognize that we are all learning what it means to trust Jesus every day!
Joy Basket (Offering)
We believe that everything we have is given to us by God. We also believe that He asks us to give a percentage back to Him. For those who call Mt. Pisgah Wesleyan their church home, it is important to invest in what the church is doing in our community. We have a basket sitting in the back of our Worship Center for all who would like to give. If you are a visitor, please feel no pressure to put something in the basket. We are just happy to have you with us.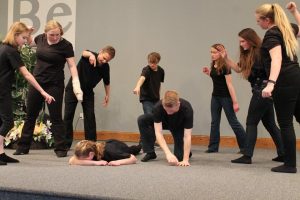 We accept cash or checks made out to Mt Pisgah Wesleyan. We will be offering online giving soon.
Communion
Communion is a Christian sacrament. A sacrament is a physical expression of a spiritual reality. In communion, we celebrate and remember Christ and His love for us. We celebrate communion a couple times a quarter. If you wish to participate and you are in a right-relationship with God, we welcome you to do so! If you do not wish to participate, we encourage you to use this time for quiet reflection.
What Should I Wear?
The Mt. Pisgah Wesleyan Church is committed to creating a comfortable environment for people seeking a deeper understanding of God and His importance to them. We welcome all people. We also want people to be comfortable in what they wear, so you may see someone in a shirt and tie, or in cutoffs and sneakers. We just want you to feel at home – so wear what you would like.